zapped and padlocked balls - software resuscitated

Date: Wed, 1 Jul 2009 23:22:37 +0000 (GMT)
From: tim spiers

Good Evening,
We purchased your training program more years ago than I wish to remember - about ten or twelve years ago.
We had massive fun with it and my wife really took it to heart and since that time we have led a domestic femdom relationship. I must stress that we are not "heavy breathing" fantasy type people and we live normal everyday lives except that when the time, mood and opportunity arise we switch into femdom mode. I posted some stuff to you years ago (see below) to tell you how we were getting on.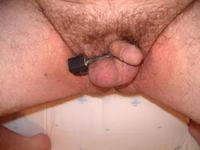 So - onto our present situation. This is a post from years ago, I think to you but if not, somewhat similar to my post to you......
Many years ago I saw a blue movie where a man crosses the local mafia boss. He gets taken to a warehouse, stripped naked and is chained to a wall with a padlock around his testicles.

Continue reading "zapped and padlocked balls - software resuscitated" »