Ms Christine.com - Adult sexual fem dom relationships and role play.
Mistress-slave Training Manuals by Ms. Christine.
---
Mistress-slave Training Manuals by Ms. Christine.
- Ms. Christine's Fem Dom Manuals. -
Parts One and Two

NOW available for your smart phone, tablet, computer or e-reader

(Apple™, *ANDROID™ or Kindle™)
US $22.50
US $15
US $15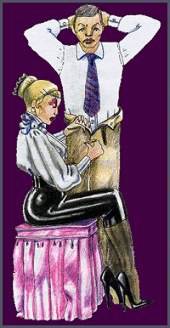 The Fem Dom Manuals were originally written in 1986. They came about because at that time I had been living with David for some seven years. During which time he had written many essays for me to try and encourage me to be his perfect Mistress. I decided that what I had learned about David and other submissives in those seven years could well benefit other couples who come together to form either temporary or permanent dom-sub relationships.
While David and I communicate well with each other, it was clear that other couples found explaining their fantasies and needs more difficult.
Part one was such an instant success with our mailing list at that time, that we were inundated with letters for more along the same lines. We think you will find both parts realistic and sensible, and yet very erotic. Parts one and two have been re-edited and updated.


Whatever combination of books, manuals, videos, software or 
password you wish to order just note the value and total.

Then as.... 

Posted by: Ms Christine to the DOMestic Blog

Just donate an equivalent amount to your purchases to a major
charity and send me an email within a day or two of making the
donation (ideally with some receipt/confirmation of the donated
amount and the charity concerned) and I'll set up free download
links for your chosen items.

As to charities I'm thinking that in these times of so many
major emergencies that need our aid, they vary from country to
country, and most countries have Red Cross/Crescent, Medecins 
Sans Frontieres/Doctors Without Borders or similar.

Sean Penn, the actor, has set up CORE to take action in Haiti
and elsewhere, and something like that is also good.

Below I have posted links to donate to United Nations aid
organisations.

Unicef (United Nations Children's Fund)

UNHCR - The UN Refugee Agency


(Also available, as Instantly Downloadable E Books, "Prickteasing" - David's first manual and "Games people play", his second, both of which have received eulogistic compliments. Instant Download US $15 each
The manuals are also available as Illustrated Web Books which run in your computer browser. (They work on Macs, Windows, and Linux PC's.)
The ability to display books on screen should not be confused with
the totally unique Fem-Dom Training Program!
Fem Dom Software for your computer.
"What can I do with my Plastic?"
You can reach us at:
support@mschristine.com

David & Christine Stevenson,
Apartado 468
2500 - 000 Caldas da Rainha
Portugal
Tel: Portugal (+351) 917 524 443
************************


---
Copyright © 1986-2023 Christine and David Stevenson
support@mschristine.com
*ANDROID is a trademark of Google Inc.
The ANDROID robot is reproduced or modified from work created and shared by Google and used according to terms described in the Creative Commons 3.0 Attribution License.