2009-08-13 ( 13 edited messages )

# C: Dominatrix Leslie
# C: Fem Dom games and contests couples and bdsm groups
# Re: C: Fem Dom games and contests couples and bdsm groups
# C: boy - you're really in for it now
# Re: C: boy - you're really in for it now
# Re: C: how to fuck hubby with a strap-on
# Re: C: Mistress and her maid
# C: Mistress and her maid - Training continues (parts 2 & 3)
# Re: C: Real life Fem Dom
# P: male sub seeking Female writer - orgasm control
# U: Custom Made Chastity Devices - Chastity Heaven
# Re: U: Custom Made Chastity Devices - Chastity Heaven

Keep up to date with DOMestic at:-
http://u4ds.com/replies.shtml

The Fem Dom Training Program.
Train your husband/lover.

* * * start of the digest * * *

C: Dominatrix Leslie
Date: Mon, 10 Aug 2009 16:32:11 -0700 (PDT)
From: Leslie Olsen

Hi everyone,
I want to introduce myself to everyone. My name is Leslie and I
am a dominatrix. I have been into this since 2004. I'm excited
to be a part of the group!
Leslie

* * * next message * * *

C: Fem Dom games and contests couples and bdsm groups
Date: 5 Aug 2009 19:41:33 -0000
From: kinkmarshall

I am wondering if there is a book or some other kind of
publication of games and contests Mistresses can play with their
slaves, when a group of two or more couples gets together. If
not, it might be fun to post some experiences! My Mistress and I
are going to a couple of "events" over the next 4 weeks.

* * * next message * * *

Re: C: Fem Dom games and contests couples and bdsm groups
Date: 6 Aug 2009 20:39:17 -0000
From: slaveboy

kinkmarshall wrote:
>it might be fun to post some experiences! My Mistress and I
>are going to a couple of "events" over the next 4 weeks.

I for one would love to hear ideas, as well as what "events" you
are going to. Are they public or private?
I would think games of strength pitting slaves against each
other in pairs or groups would be interesting, like push ups,
weight lifting. They could be lined up and told to do as many as
possible. First to drop out would get the worst punishment and
the winner would get a reward. Actually, the winning slave
owner would get the reward and the slave could get something
like a pat on the head and some water.
This could be done with tons of less strenuous activities, like
holding hands straight out, horizontal to the ground and each
slave would have a glass almost filled with water on each hand
and the last slave to have both glasses full would win, or the
last single glass left would win.
That could be done making them hold light weights also, and the
breaking of an imaginary angle when you can no longer hold your
arms up would constitute being eliminated.
The Mistresses would sit and watch and agree on who to eliminate
as the games continue, calling out their number to eliminate
them as they fail.
Would love to hear others' ideas. Would also be very interested
in participating with other couples if anyone is interested and
we can get it organized.
Anyone for a slave Olympics in Southern California?
How about a slave "hunt"?
That could be really interesting!

* * * next message * * *

C: boy - you're really in for it now
From: james
Date: Mon, 10 Aug 2009 20:52:05 EDT

Thank you! We have received the download files and installed
them with no problem. As you said - the program is huge and very
thorough. I took a quick look at some of it - out of curiosity
and to make sure all was working correctly. I was amazed and
becoming stimulated - lol.
However, because the program will be used by my Mistress, I soon
relinquished it to her view. She was absolutely glued to the
monitor for well over an hour. She then stood up and with a huge
grin remarked "boy - you're really in for it now."
I of course had chills at that. Now - I await her return from a
previously arranged shopping trip. I have the feeling that
you've heard this sort of response before.
I've been getting your 'digest' for about 10 yrs now and have
always read and enjoyed all of it. Thank you for this program
and for all the years of the digest.
Soon I imagine she'll want some videos and books. She is
especially interested in understanding the aspects of the use of
toilet training. I don't know what to think.
Please continue all your good works!
james

* * * next message * * *

Re: C: boy - you're really in for it now
Date: Tue, 11 Aug 2009 03:06:48 +0100
From: "Christine" at u4ds.com

Hello James,
I loved the response of your Mistress... "boy - you're really in
for it now."
I had a good laugh over that, a lady after my own heart.
sincerely,
Christine
The Fem Dom Training Software.
Advises on how best to train your husband/lover.

* * * next message * * *

Re: C: how to fuck hubby with a strap-on
Date: 6 Aug 2009 01:29:20 -0000
From: Christine at u4ds.com

Hello Pussikat steve,
you wrote:
>Thank you Ms Christine for all the good work you do on
>Domestic.
Thank you Pussikat steve for some excellent feedback on
something I missed from my own posts. This is why I'm always
telling folk who send their questions to me privately to post
their questions here.
DOMestic readers always have more to offer than David and I, and
that goes for everyone here. Thank you all.
I'll repeat your advice in the next digest, in case anyone
missed it:-
Pussikat steve wrote:
>With regard to internal cleanliness, instead of the
>paraphernalia of a full enema, unless it is part of your play,
>I find it more convenient to use a small douche. This consists
>of a rubber bulb approx 50mm in diameter with a detachable
>nozzle.
>In use the bulb is filled with lukewarm water and squirted into
>the rectum after first having a bowel movement. Discharge the
>water into the toilet bowl and it is important now to flush the
>toilet to leave clear water in the bowl because now one repeats
>the process and one can see if the discharged water is clear.
>If it is not then repeat the process until the discharge is
>absolutely clean. It would normally only require two
>applications. You will almost certainly find that the dildo
>remains clean throughout the session.
>The douche is very easy to carry and is obtainable from medical
>suppliers and some gay toy sites.
sincerely,
Christine at u4ds.com
Renew or get your DOMestic password.

* * * next message * * *

Re: C: Mistress and her maid
Date: 5 Aug 2009 16:05:16 -0000
From: Maid angela

This is a very interesting account and quite exciting for a male
maid like me to read. There did however seem to be a lot of
sexual content in the relationship. When I serve my mistress
there is no sexual content it is housework, housework,
housework. I am her domestic and household drudge and the only
other activity in the relationship is when I am allowed to give
her a foot massage or when I am being punished for any lapses in
my work. I love being treated like that.

* * * next message * * *

Re: C: Mistress and her maid
Date: 9 Aug 2009 21:52:11 -0000
From: sissy maid wendy

Maid angela wrote:
>a lot of sexual content in the relationship
i expect different Mistresses have differing preferences and
uses for their maids. Part of my work includes some slut
training (as all sissies should have), and training in the
pleasure of other Mistresses and women in general.
I also no longer have the right to an orgasm without my owner's
approval - but you will find out more as i send the notes
through. Please also note the sissy does not always receive
intimate attention.

* * * next message * * *

C: Mistress and her maid - Training continues (parts 2 & 3)
From: sissy maid wendy
Date: Sun, 9 Aug 2009 21:59:33 +0000

Training continues.
First part.

Part two - Mistress and her maid
maid arrived wearing panties, camisole, suspenders and stockings
under street wear.
Duties for the day - cleaning the kitchen, clean all dungeons,
and wipe floors and all equipment. Red apron worn over the black
underwear set.
maid then dressed in full uniform traditional, but no panties
worn. Served wine in front of Madam's household on the day.
maid then taken to the front dungeon, to sit and wait for
Madam's return.
Over the knee spanking administered by Madam.
maid then knelt on the floor bent over supported by hands placed
on all fours with dress raised. Correction by the cane of 7
strokes plus 12 strokes of the whip for failure to dust some
areas properly.
maid thanked Madam.
The maid was comforted by Madam afterwards.
No sexual attention on this day, no masturbation.

Part three - Mistress and her maid

The maid arrived as instructed just after 2.30pm
The maid today was to clean the front dungeon, she cleans the
mirrors and floors, plus the bench and all canes, paddles and
whips on two of the walls followed by the floors.
Today he cleaned his Mistresses strap-on harness, and washed her
strap-on, placing both on the bench as a reminder of her owners'
right to take her when she, and only she, wanted to.
maid quickly changed into the winter uniform, of a maid's dress,
camisole, satin pink blouse, suspenders and black stockings
followed by his high heels, she had thought of wearing panties
as she waited for his owners' return, but she knew the new rules
of 'no panties' to be worn, as she walked the house doing his
work for Madam - she was now never to wear panties in the house
unless Madam had special guests, she would of course wear
panties under her street clothes from time to time, but he would
from now on be kept without panties whilst in uniform.
Without panties for her Madam's access, to both check his
behavior, reward him with permission to play with his clit or
just so Madam could see her property and be reminded of what she
now owns every time the sissy maid raises his skirt to curtsy.
Without panties so Madam could see her property and or touch it,
caress it or slap it to remind her sissy that both the clit and
sissy maid's liquid cum was hers, and its use was to be
authorised by her or another female.
The maid's days of masturbating for her own pleasure through an
orgasm had now been taken from her. Madam now owned his clit and
his pussy. Their use was now only with her permission, should
she want to watch her maid play with her clit for her or Madam's
female friends enjoyment or decide to restrain her and milk her.
(the sissy would need to be trained to be a sub after milking -
an important step for the future).
The maid was now ready and waiting for his owners' return - he
met her at the back door, welcomed her home and sat with his
owner. Lighting a cigarette for her - before pouring a glass of
champagne for his owner. As they were alone for a short while
today they chatted of the steps the maid had taken over the
years and how he had progressed.
The maid thanked his Mistress.
Madam then outlined to sissy some of the next steps to be taken
by her maid - and the personal sex duties she would need to
learn - these would include his oral servicing of a transsexual
to full service whilst his Mistress watched, with her Mistress
selecting a mature life style transsexual to be her first real
cock to enter her.
This would be special gift to both the maid and a transsexual
when the time was right. his Mistress would only watch part of
this as the transsexual was to be with her for an hour or two
and she would be trained to be a better fuck for his Mistress'
strapon - it was to be an education, benefiting the maid's owner
as well.
The maid was also now likely to be punished in front of other
slaves as well as taking other slaves in her mouth under her
owners' directions and watchful eye.
After they had finished their chat it was inspection time, with
Madam pleased with the slave/maids work... but it was still
punishment time... Today the Mistress punished her with an over
knee spanking of what was often the regular three hundred spanks
of Madam's hand.
After reaching the counted total of three hundred, the Mistress
told the maid to stop counting. She had not finished and she was
now going to spank the maid just because she wanted to and
counting was not necessary. The Mistress then spanked her maid
in quick spanks, of at least 15 or more - by this time the maid
was almost in tears, but her owner had not finished quite yet.
Madam had decided to follow the spanking with the testing of a
new cane - Madam had decided the maid was to get 12 of the best
across her sissy bottom.
The maid bent herself over the bench, moved her legs apart,
raising her dress and slips to expose her now bare and very
reddened bottom. Madam selected the cane of her choice. It was
covered in tight leather or cloth, so it was more a short whip.
Madam now started to tap the maid's bottom lightly with the
cane, then she raised her hand higher delivering the first
stroke of the cane across the maid's bottom, with a swish sound
as the cane sliced through the air before contacting the sissy's
bottom. The maid's legs now buckled as she moved after receiving
the cane, but as a well trained maid she knew that the stroke
would not count towards the total of twelve if he did not raise
her bottom to receive each stoke - each stroke hurt the maid and
she thanked his owner for each one.
After her owner had reached 12 she thought they had finished but
Madam decided one more to make it 13, the baker's dozen. This
last one, stronger than the rest, hurt the most. The maid was
upset but knew it would make her a better maid and her owner a
better Mistress the more she corrected, and used her.
As he now fell to the floor thanking her owner for the
punishment, she knew that Madam was her owner and she was truly
her maid, slave and property. She really did like to please her
Mistress in any way he could.
The maid now sat on the Mistress' lap and she cuddled him and
comforted him after his ordeal.
Not long after, the maid was sitting in the lounge next to her
owner knowing she wore no panties, her bottom had been spanked
and caned and she felt a great deal of respect for her owner and
so much enjoyed sitting close to her Mistress and holding hands,
her hand on his knees, under his dress or just being held close
to her - she was her slave and sissy maid.
The Madam was getting ready for going out for dinner, so the
slave changed to her street clothes and left.
She had been denied another orgasm but her owner had told her to
control herself and no orgasm from Monday for the next two days
until he would report to her on Wednesday.
There was a possibility, not a guarantee but a possibility she
would be restrained and milked by his owner's hand - after which
she would be taken to another part of the house for a drink and
chat with her owner only, so the maid could take the next step
of feeling at ease and in uniform after a milking.
This was a necessary step in the training as one day Mistress
would be lending her to other Ladies who might want her sexual
use but also her companionship and service after they had used
her sexually. A maid needs to be eager to serve whether it had
been days or minutes since milking, sex or an accidental cum - a
maid was a maid.
The slave / maid left her owners' house eagerly awaiting her
next visit - this time it would be from 12.30 to 5.30pm on the
following Wednesday. She was to be there and used for half a
day.

* * * next message * * *

Re: C: Real life Fem Dom
Date: Mon, 10 Aug 2009 17:20:53 -0700 (PDT)
From: slaveboy

I haven't quoted anything from your posting MaitresseX, but
I do have something to discuss privately concerning your post.
If you wouldn't mind, I wonder if you would contact me
privately? My Mistress knows and approves of this request, just
so you know.
Thank You
sb
herslaveboy_2000@yahoo.com
email address info

* * * next message * * *

P: male sub seeking Female writer - orgasm control
Date: Thu, 6 Aug 2009 21:32:43 +0000 (GMT)
From: Humble Serf

male sub seeking Female writer for fiction collaboration and
possibly orgasm control.
I am a 39 year old natural life-long submissive with particular
interests in cuckoldry, chastity and humiliation. I have a major
fetish for panties, which, in recent months for various reasons,
has gotten out of hand to the extent I touch myself several
times a day looking at images on various websites. In addition,
I am blessed with an incredibly high sex drive but cursed with
an incredibly small member.
Unfortunately this has rendered me, pretty much, a eunuch, I
have had full penetrative sex in the past with a small handful
of women, but invariably disappointed them and found it hard not
to - forgive me for being so explicit - slip out.
In short, I have had to learn to accept that if I am ever to
please a woman again, it is not as a lover but as a servant or
some other form of amusement.
I am also a keen writer and would love to exchange fantasies,
perhaps collaborating, with a superior Lady. I wonder if there
are any fine ladies out there who would come to the aid of a
weak submissive and take control of his masturbation in order to
try and cure this filthy addiction.
Perhaps this Lady would be so generous as to work with me
through roleplay in the form of fictional scenarios to show me
the error of my ways and train me to overcome them, while at the
same time allowing me to amuse her with tales of my errant alter-
egos?
I'd love to hear from any Lady out there interested in this and
will be happy answer any questions you may have. Please feel
free to email me directly at:-
humble.serf@yahoo.co.uk
email address info
Yours hopefully,
Humble Serf

* * * next message * * *

U: Custom Made Chastity Devices - Chastity Heaven
Date: Thu, 6 Aug 2009 07:48:30 -0700 (PDT)
From: slaveboy

Hi,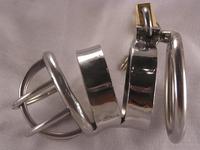 Since I'm getting some interest on the new chastity devices I've written about, I thought I would allow the readers to see more on our website chastityheaven (which is currently under construction).
During this transitional period, you can still go there and see more pics and read more about all the effort that has gone into coming up with the best designed custom made and custom sized devices. They are, HANDS DOWN, superior to the plastic devices
and you can read all the reasons why at our site.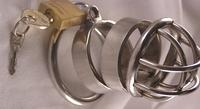 I just posted the latest design there Wednesday night and here are a couple pics of it.
So, you can see more and read about them here at chastityheaven
Anyone wishing to order still needs to contact me because ordering on the site is not functional as yet.
Any feedback would be much appreciated!
Thank you for all the interest!
herslaveboy_2000@yahoo.com
email address info

* * * next message * * *

Re: U: Custom Made Chastity Devices - Chastity Heaven
Date: Wed, 12 Aug 2009 13:48:29 -0700 (PDT)
From: slaveboy

Some Problems with my ChastityHeaven website

Hi All,
If anyone reading this filled out a form on our website at
ChastityHeaven and asked for more info on ordering one, please
email me privately. The form wasn't working properly and I got
several requests with no email info on them.
PLEASE email me directly until I can say that everything there
is working properly. I have removed the forms so it doesn't
happen anymore but I don't want anyone to feel as if I ignored
you. The darn things were going into my SPAM folder, so luckily
I checked there and found them.
Also I've put a lot more info on the site about our devices, and
lots more will be going up there as time goes on. There are
plenty of links to email me from there too.
s.b.
herslaveboy_2000@yahoo.com
email address info

* * * end of messages * * *

The Fem Dom Training Program. Warning!
Turns your wife/lover into a Dominatrix.

* * * end of digest * * *
[Password] [Books] [Fem Dom Software] [Victor Bruno] [Videos / Dvd]