Miss Whiplash lucky to be alive
The 57-year-old Lindi St Clair, prominent in the UK media as
Miss Whiplash in the 1980s is in a "poorly but stable" condition
after being trapped upside down overnight in her car in a brook
near Risbury village in Herefordshire. She is being treated at
Birmingham's Selly Oak Hospital.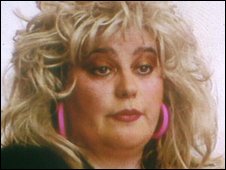 Lindi St Clair in 1989 - photo from BBC News
Ms St Clair drove off a road Thursday afternoon and plunged 15ft
(4.5m) down an embankment. She was spotted by a passer by in an
upturned Jeep Wrangler in the water about 22 hours later on
Friday and rescued.


She was conscious and was flown to hospital, but had hypothermia
and multiple injuries. Police said the road was very remote. It
took about two hours for Hereford and Worcester Fire and Rescue
Service to cut her out of the car. A spokesman said the car
ended up on its roof in a stream in the Leominster area and Ms
St Clair was lucky to be alive.
Ms St Clair claimed a number of MPs and other senior public
figures were among her clients in the 1980s. She stood for
Parliament for The Corrective Party in nine by-elections. The
party campaigned for the liberalisation of British laws on
prostitution and the sex trade. Her bankruptcy, in 1992,
disqualified her from standing again.
In the 1990s, she left her successful dungeon in Charlton
(Eastcombe Avenue), London, which sported pictures of famous
people and cabinet ministers on the wall, and moved to a farm in
rural Risbury, Herefordshire, where she lives, raising ducks,
geese, chickens and rabbits.
Links below to:-
"Miss Lindi St. Clair - My Biography".
[Password] [Books] [Fem Dom Software] [Victor Bruno] [Videos / Dvd]