my wife padlocked my balls
From: Will
Date: Mon, 23 May 2016 01:27:45 -0400 (EDT)
So my wife and I recently stumbled on to this post...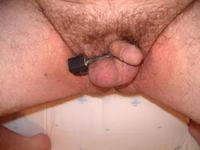 We are a pretty normal couple with healthy sexual appetite.
I was reading where a guy had to have a lock removed from
his testicles and mentioned it in passing to my wife.

My wife is just now starting to realize how much she likes being
the dominant. So I did my homework and picked up a particular
padlock from Home Depot. When I got home I said I bought
something, not sure how you're going to take it. I pulled the
lock out and she knew almost immediately what to do.
The next thing I know, my wife has my pants down with my balls
in one hand and the lock in the other. As she hooked the cold
steel hasp around the back of my scrotum all I could think was,
this is awesome! She closed the lock on my nuts and looked up at
me with a grin.
It's only been three days now but I don't think she plans on
letting me out till next weekend. I used to think the chastity
thing was over-rated but I can't tell you how much I'm
anticipating being unlocked. I think she's been wanting to do
this way before now, guess I was the late bloomer...