forniphilia, race play and sexual objectification of human furniture
The Times (of London) is now similar to much of the UK tabloid
press in that it enjoys an excuse to run a kinky picture as they
do here in this "No sex please comrades, we're British" article.
The American Dominatrix Margaret Corvid, who is based in the
South West of England, is shown here flexing a cane. Why?
Left wingers in the UK, including `Magpie Corvid´ as she is
known on the ISN, have been arguing over ethnicity, sexuality,
race and gender after she expressed her liking of a picture in
the media which got her BDSM juices going.
After the storm had somewhat abated Charlie Winstanley, on the
British Communist Party web site "cpgb.org.uk", wrote that
"individuals should be able to engage in a conversation about
BDSM and `race play´ without being slandered as racists"
Even in the BDSM world there are some who are in two minds over
the acceptability of sexual "race play". Clearly some costumes
and some art forms can carry emotional baggage to say the least.
And media storms over apparent sexual objectification of women
in artistic representations of human furniture is not new.
Forniphilia is a form of bondage and sexual objectification
which in BDSM involves a real life submissive person used as a
chair, table, or other piece of furniture. The consensual victim
is often tightly bound and sometimes gagged. In the real world
the subject could be either male or female. And in BDSM of
course the victim is enjoying being used in this way.
The chair an 1893 piece by François-Rupert Carabin shown here in
the Strasbourg Museum of Contemporary Art demonstrates a long
history of using the female form in furniture as an artistic
expression. This French cabinetmaker, photographer and sculptor
with a studio in Montmartre also made a series of photographic
studies of prostitutes.
Using the female form for such works of art is often
controversial. No less so when British pop artist Allen Jones
made slightly larger than life-size fibreglass sculptures of
women as furniture with fetishist and sado-masochist overtones
back in the late 1960s.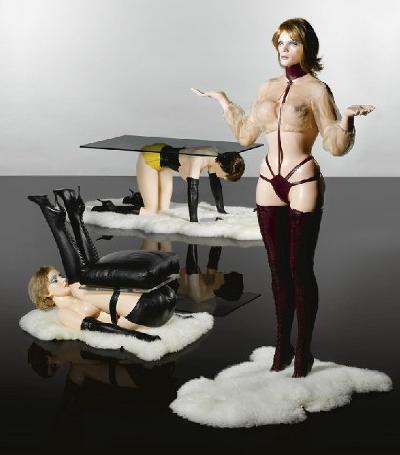 Those controversial pieces nowadays fetch multi millions of
dollars at auctions in leading houses like Christie's and
Sotheby's. An Allen Jones chair, a 1969 artwork, now belongs to
the Tate gallery and Allen Jones 70th birthday was celebrated
with an exhibition of his work in 2007 at the Tate Britain in
London.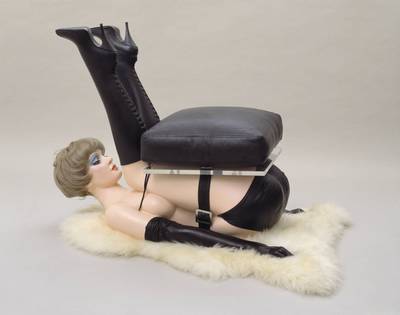 http://www.tate.org.uk/art/artworks/jones-chair-t03244
In the "Lot Notes" on the art auctioneer Christie's web site
where the pieces realised more than two million pounds (3.3
million dollars) in 2013 the following is quoted from an A.
Jones, 'Interview avec un dessin', Le Petit Journal de Vogue,
March 1974.
Standing Lady: If my appearance creates a political or social
stir, it's worth it, as long as the emotional energies are
directed towards the real problem. But unfortunately, a small
minority prefer to sully my image, while all I want to do is
give pleasure
Allen Jones: What's the alternative for this minority?
Standing Lady: To direct that energy towards the inequalities
in everyday life, education, unemployment. I must say that even
for a woman with long hair, a sensual mouth and shapely legs,
it's the same battle
http://www.christies.com/
Allen Jones views as expressed through the standing lady above
were not sufficient to quell criticism. There were angry protests
in the seventies and eighties, particularly from feminists who
saw the works of art at the time as an objectification of women.
The chair for example was attacked and damaged with paint
stripper in a feminist attack in 1986.
Art historian Marco Livingstone, wrote in 2004: "a few moments
of reflection should make it obvious that these works are
manifestations of fantasy and the imagination, and that they
poke fun at male expectations."
In an article in 2013 on The Guardian web site they show the
Allen Jones chair while asking "What makes art a target for
attack?"
A reader there, Soyuz, commented "If art provokes strong
emotions in people, it has surely achieved its aim. But
destroying any work of art deprives others of the opportunity to
form their own opinions".
Kunsthalle Tübingen, the famous art museum in Baden-Württemberg,
Germany celebrated Allen Jones 75th birthday with a
retrospective.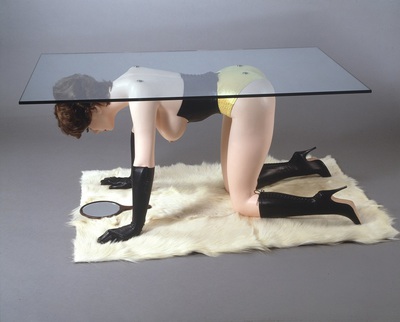 On that occasion Global Art Magazine described the Allen Jones
table as "consisting of a woman posing as an obedient dog would
do". The magazine wrote "it would be a fatal error to confuse
the depicted content with the message of the work of art. It is
fiberglass and steel forced into the shape of furniture - and
not people! For the artist, it is not about contempt for women
but questioning restrictions on free thought and moral
barriers."
In recent times Norwegian artist Bjarne Melgaard created a
series of interpretations of Allen Jones work. His chair was
made as a comment on gender and racial politics and the female
which "formed" the chair was portrayed as a black woman. In his
career Melgaard has made a habit of creating controversial
installations.
His so called "racist chair" recently made headlines when
fashion website Buro 24/7 pictured Dasha Zhukova, the partner of
Chelsea football team owner Roman Abramovich, sitting on the
chair to accompany an interview with Zhukova about her new
fashion magazine Garage.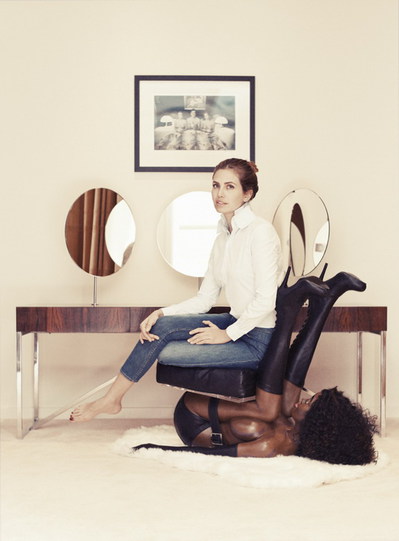 Buro 24/7 apologised for the offence caused by the image, and it
was then cropped by the publication to remove the chair below
the seated Zhukova so that one does not see the ethnicity of the
person supporting her, but not before the image had already
circulated around the world.
Claire Sulmers, editor of FashionBombDaily described the image
as an example of "white dominance and superiority, articulated
in a seemingly serene yet overtly degrading way."
To get back to the reason for the Times picture, `Magpie Corvid´
sparked a new controversy when she wrote of this image in the UK
tabloid press: "I wish there were hot BDSM pics in the daily
fail every day, and that vile racist incidents were not their
occasion. I looooooooove using people as furniture! Also, Mrs
Abramovich looks so comfortable there. I wonder if she is a
domme?"
In the art world, if the objectification is of women, and of
course when the art is erotic, people will question the
motivation of both the artist, and the audience.
Of course none of this art was created to please DOMestic Bdsm
folk. But it will nevertheless please many of us. Beauty is in
the eye of the beholder and a kinky audience will of course
experience something different to a mainstream audience.
Fetishists will perhaps not see this as a racist image, or a
male chauvinist image, but instead experience such art as purely
or at least largely fetishistic.
On the same British Communist Party web site "cpgb.org.uk", Paul
Demarty argued against the bigotry that declared Melgaard´s
Chair "just racist", and called those attitudes "reactionary
philistinism, no different in substance to the moral panics of
Mary Whitehouse."
He also wrote "things are worse than that. If the sculpture (or
photo) is racist in itself, then the concrete individuals who
engage in race-play as part of consensual pleasure must also be
beyond the pale" and he rails against the idea that "the
concomitant image of domination must necessarily map onto a
desire to degrade and dominate outside the fantasy of the sexual
fetish - which more or less rules out BDSM, practised and
enjoyed by a significant fraction of the human population"
Paul Demarty concluded "I cannot describe this attitude as other
than ignorant, sexually conservative bigotry...."